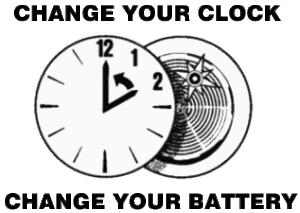 Sunday, November 5, 2017, marks the end of Daylight Saving Time — a twice-a-year occurrence that we, where we forward an hour in the spring and back an hour in the fall. To remember, think "springing forward" and "falling back." The change on Nov. 5 this year will occur at 2 a.m.
Benjamin Franklin proposed the notion of making better use of the day's light while visiting in Paris in 1784 to "encourage the economy of using sunshine instead of candles". Therefore, the concept of saving daylight is actually rooted in candle wax, not electricity. It's a myth that the concept was to benefit farmers as they were some of the most outspoken opponents of the law in the U.S., believing that it would disrupt their farming practices.
Today, it is also a good reminder to change batteries in life saving smoke detectors.